Sister Carmie Cleanup Day A Success
On Sept. 26, a total of 73 Siena Heights staff, students and administration participated in its annual Sister Carmie Cleanup Day. From 10 a.m. to 3 p.m., the Sister Carmie Clean Up Crew worked to beautify Siena Heights' campus in preparation for homecoming this weekend, and a general appreciation for the nature of our campus. The volunteer crew participated in light duty work from pulling weeds, picking up trash, and raking leaves.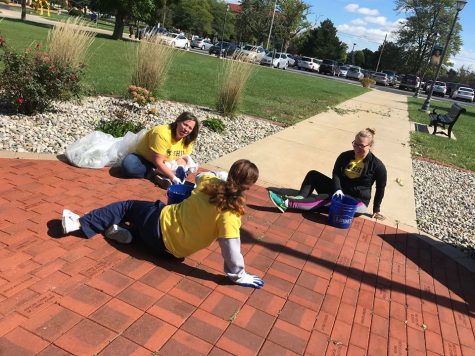 Sister Carmie Cleanup Day is an annual day that was started in the 1970s by Sister Carmela "Carmie" O'Connor, a former faculty member. Event organizer Deborah Keller said, "I had the opportunity to know Sister Carmie, and understand that she was an environmentalist, and was known to be ahead of her time when it came to beautifying the campus."
Not only does this day aim to improve the looks of our campus, but it is also a chance for inter-generational opportunities. Keller explained how she was able to communicate with two young students at Siena Heights, and learn their stories and future plans.
This day is a chance for staff and students in a range of ages, to come together for a common goal for campus. Sister Carmie Cleanup Day works to create a sense of pride on campus, and will hopefully encourage all students and staff to not be afraid of picking up trash that they may find just walking down the sidewalk.
Keller also explained how the student organization, Greenlight Club, is a big part of the day. Greenlight was awarded the Community Service Award at the end of the 2017-18 school year. This student organization, along with staff, maintenance/custodial employees, and students were able to showcase the Sister Carmie Cleanup Crew logo by wearing yellow t-shirts that people may have recognized on campus.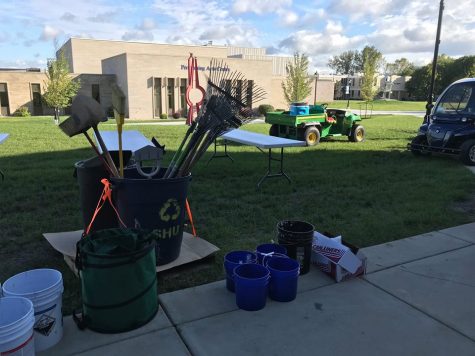 This day has been an annual event for two years, and will continue to occur with the help of volunteers. The next Sister Carmie Cleanup Day will take place about two weeks before commencement.
Those interested in volunteering for this event, check the Daily Announcements for information closer to commencement.
Leave a Comment