Athlete of the Week: Chad Elliot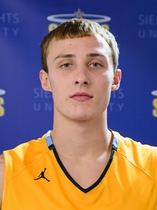 Chad Elliot is a redshirt freshman for the men's basketball team at Siena Heights University. He is from Brookpark, Ohio, a suburb city just outside of Cleveland.
Elliot attended Berea-Midpark High School in Berea, Ohio, where he was a part of one of the best teams in his school's history his senior year. Elliot started playing the game of basketball when he was about 3 years old. Elliot said he came to Siena because he received a basketball scholarship. He also wanted to study nursing. He said Siena has a really good nursing program, so that also played a big part into Elliot coming to Siena.
Elliot mentioned that his teammates and the people of the University is what he likes the most about Siena.
Elliot's goals while he's at Siena are to win a ring in basketball, become an All-American and also maintain a 3.0 GPA or above. Elliot is looking to give the Siena basketball team a spark this year as he enters his first season as a collegiate athlete. Elliot mentioned that he is in no rush to take over the team; he just wants to help the team win games and be the best teammate he can be.
The Saints are coming off a 12-17 season, and Elliot hopes to help improve the record and contribute to more wins.
Leave a Comment