Laughter Yoga with Joni Warner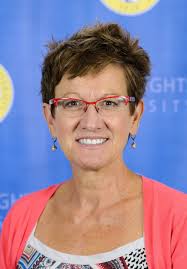 A professor at Siena Heights University is looking to start a new program on campus called "Laughter Yoga."
Laughter Yoga encourages people to be less serious and laugh hysterically to relieve some stress that may occur from classes. Faculty member Joni Warner first heard about laughter yoga through a fellow coworker. She did it and loved it, describing it as "cathartic."
She said it is, "big, hearty, heavy breathing and laughing."
Warner is certified to teach yoga, and wants to integrate laughter yoga into regular sessions. She said she uses it as a stress reliever in classes for students. School can be stressful for students, so she said she wants to make it a more fun environment and to help students release stress through laughter.
According to experts, laughter has health benefits, such as releasing physical tension and keeping the body's muscles relaxed for a brief period of time after.
Who doesn't feel better after a good laugh? Warner said,
"Laughter yoga is one of the things that makes sense to me because we all need to laugh more, I mean people take life too seriously, so why not laugh?" she said.
She is not the only one who wants laughter yoga to become a thing on campus. Dean of the College of Arts and Sciences Matt Draud even approached her to ask where it was. Warner said she hopes to do sessions during the week as soon as everything gets settled on campus, as well as adding some short sessions into online learning to give students a break.
Everyone needs a good laugh in their life, and laughter yoga is a great technique to do so.
Leave a Comment