For the Love of Books: Melissa Sissen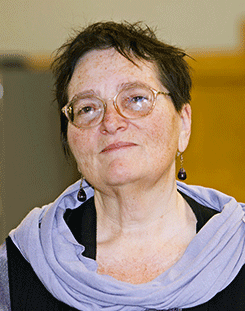 She calls herself "the Jack of all trades."  You may have seen her ever since you got to Siena, either in the classroom or here in her favorite place: the library.  She's either helping you with the researching database, teaching you the difference and how to use citation forms (MLA, APA, Chicago), or she's paying the bills with the budget money when she needs something.
Who is this lady? Well, it's Research and Public Service (Head) Librarian Melissa Sissen.
Sissen is sort of a native. She went to St. Joseph Academy for high school, making it an easy transition to study at Siena Heights, where she met her husband.  After a while, Sissen said it was time to go back to earn her master's degree in Library Science, which she did at Wayne State University.
She said she always knew that becoming a librarian was her path, working previously at art and historical museums and travel agencies.  Since she was a kid, she would help out her mom who volunteered at a library. Reading books (mainly fiction) was a type of escapism for her, she said.
Sissen said she has adapted to change due to technology continuing to take leaps. Yes, she has a Kindle (which is convenient for waiting at the airport or doctor), but to her, there is nothing better than holding a book and flipping a page.
She said she does appreciate the way technology has helped make the library more efficient, as before it was physically challenging handing out reference cards and going to find a book. Now, she can look it up in the catalog.
After working more than 30 years at Siena, Sissen was awarded with the Sister Ann Joachim Alumni Award Oct. 11.  The award stands for facing diversity, but still doing good in the community.
When looking back at past winners, she said she was honored and humbled. As someone who lives by "don't say it, just do it," Sissen was able to share some of the things she does for the Adrian community.
She said she was in the forefront for making the library automated, as before it was only card catalogs. She also helps to provide for the homeless, gives away school supplies and gently-used hoodies to middle and high school kids, makes fleece blankets and participates in the food drive.
Yes, she said she has faced a lot of adversity from people who don't share the same views, but that will not stop her from reaching her goal.
She said she wants to teach her students about diversity. As someone who does things to better hers, she asks them, "What as an individual is your social responsibility?"
Is it reading to little kids or the elderly, or even getting rid of old clothes you no longer wear?
She said whatever you do, make sure you are leaving a positive impact on your community.
Leave a Comment