Saints Fall to Marian in Season Finale, 21-7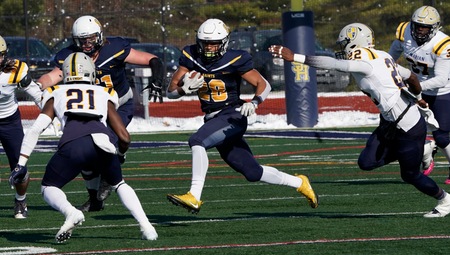 Marian 21, Siena Heights 7: The Siena Heights football team competed against Marian Knights on Nov. 20 at O'Laughlin Stadium. The Saints lost 21-7 to end their regular-season at 7-3.
Siena struggled to run the ball, with only 74 rushing yards, while Marian (Ind.) rushed for 172 yards.
The lone Saint touchdown was scored by Austin Krider with a 29-yard reception that tied the game. This was not enough to overcome the Knights. In the third quarter, Tristen Tonte put the Knights ahead with a three-yard touchdown run. Later in the fourth quarter, the Knights scored two more touchdowns; one which was a 29-yard touchdown pass to Johnny Williams and another touchdown scored by Tonte that was a 33-yard run.
For the Saints, Kaleb Jefferson led the team in rushing yards with a total of 74 yards on 17 carries. Tyler Knecht led the team in passing, going for 13 of 30 for 186 yard and a touchdown.
On the defensive side, Kole Murlin led the Saints with 10 tackles. Gabe Callery finished with eight tackles and an interception, which was his second of the season. The Saints had a total of 186 passing yards, 74 rushing yards and three turnovers.
For the Knights, Tonte led the team with 19 carries for 68 yards and two touchdowns. Johnny Williams led the Knights in receiving with a total of 135 yards, as well as scoring a touchdown. On the defensive side, Nickai Poyser led the team with 18 tackles, a sack, and 2.5 tackles for a loss. Raushawn Brent had a total of five tackles. The Knights (9-0) had a total of 242 passing yards, 172 rushing, and two turnovers on the day.
Leave a Comment