Meet New Wrestling Coach Adam Greene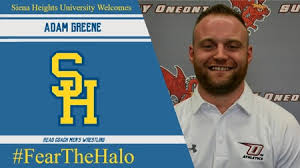 After 32 years of wrestling being discontinued, the sport has made a great comeback to Siena Heights University. On. Nov. 25, 2019, Siena Heights announced Adam Greene as the new wrestling coach.
Greene said he has great plans for the program and even plans to bring a new type of culture. Greene said he is wasting no time, as recruitment for the program has already begun.
Before Greene was given this opportunity to coach at Siena he was working as a high school counselor and assistant wrestling coach in Brandon, Fla.
In Greene's recent years, he was an assistant coach at SUNY-Oneonta University from2015-19. While working there,Greene had multiple tasks such as recruiting, running the practice, getting the equipment ready, creating the traveling agenda, and even off-season training.
Greene is a very well-rounded individual as he even helped academically with his players. He would hold and organize all of his athletes' study table events, working with academic advisors, tutors, and even the writing center.
Greene said he made sure his athletes excelled both on the mat and in the classroom. He also attended the university, graduating with a degree in sociology.
Greene also played football at the Division III level at Hartwick College and got some playing time in 2012. He played in six games.. While playing numerous sports in high school, wrestling was where Greene really excelled being first-team all-state in wrestling.
Leave a Comment