Prepping for the Season: David Long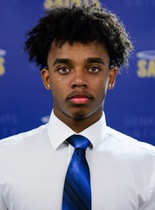 The year 2020 was one where masks have become the new norm and are not going away anytime soon. Many fall sports seasons were postponed and pushed back to the spring.
The Siena Heights University football players have been prepping for the season since September, even though their season does not start until Feb. 27.
Student-athletes like David Long did not let Covid-19 stop hi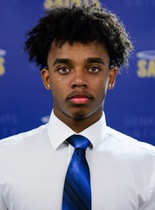 m from perfecting his craft. Long is from Berkley, Mich., and is currently a junior at Siena. He is a member of the football team and a chemical engineering major. He is 5 feet, 10 inches tall and weighs 160 pounds and plays defensive back, typically at cornerback. He runs a 4.5 in the 40 yard dash.
Long, like many players at Siena, is not the heaviest guy, but hits as hard as a 240-pound linebacker. In high school, Long said he was all over the place position-wise, as he played offense and defense such as wide receiver, running back, kick returner, punt returner, corner and safety.
Since fall practice ended on Oct. 31, Long has been committed to working out and gaining weight. After classes ended in December, he said he started a new plan to change his body which starts with getting up every morning around 7 to run.
Once the cardio is done, he eats breakfast which consists of two eggs, toast and some oatmeal. Around 2 p.m. Long and a friend go to the gym to lift weights. Some days it's upper and some days it's lower.
His lunch and dinner meals normally are high in carbs and consist of lean meat such as chicken, steak or fish. Around 10 p.m., before bed, Long does a 20-minute ab session, then has a protein shake and a peanut butter sandwich.
On Saturday and Sunday, Long said he normally goes to a field to practice some football drills. Doing all of this, he has packed on 15 pounds of pure muscle in only a month.
When asked about gaining weight, he said, "I've been getting a lot of people telling me I look cut, and as I look in the mirror I'm starting to notice the definition in my body and it's honestly a great feeling."
Long made his collegiate debut against Lawrence Tech last season and will be getting a lot more of playing time this season.
Leave a Comment