'Coach JK' Making a Name for Himself at Siena Heights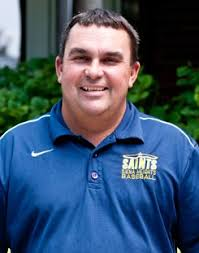 Siena Heights over the years has had its fair share of legendary coaches. Siena currently has an outstanding coach in the making, and he is the baseball head coach. John Kolasinski is his given name, but every around campus just calls him "Coach JK" because of his long-yet-unique last name.
Coach JK was originally born and raised in Connecticut in a small town near Bristol. Before he came to Siena, he was at Husson College located in Maine, where he was the head coach of its baseball program.
He said he was between the ages of 6 and 7 when he first discovered his love for baseball. Coach JK's favorite player growing up was Tom Seaver, who was a pitcher for the New York Mets back in the 1960s and 1970s.
He also discovered that he wanted to go become a baseball coach back in high school when the coach of his then-high team told him that he should consider a career in coaching. He said this was a critical and inspirational moment for him, as this coach was very popular and respectable in the baseball coaching world, so it meant a lot to him.
Coach JK said the greatest moment he has experienced at Siena was in 2012, when the Saints hosted and won the conference tournament. During this same year, his team was the fifth seed in a tournament played in Florida, where they finished in an impressive third place. The year 2012 was also the first year Siena Heights' new baseball field opened.
When asked about the motto for the team, he said, "We are big on respect. If we are out in public, hold the door for families. And if we are in line at a restaurant, let a family, elderly people and women go first."
When the coach was asked what is one thing he doesn't like in his program, he said "It's laziness. I can't stand lazy athletes."
When freshmen first arrive at the campus, he tells them, "If you're a lazy person, you will not last long in this program."
Coach JK is also a strong believer that sports can teach young people life skills that they will use in the workforce and for the rest of their lives.
He said sports also teaches people to compete.
"You will be competing your whole life, and that's in any field or profession that you go into, healthcare, real estate, tech, journalism, criminal justice, personal training, engineering, entertainment, it doesn't matter."
Fun fact about Coach JK: he was recently married to his wife, Kimberly, on July 4, 2019.