Menna Stays in the Game Through Coaching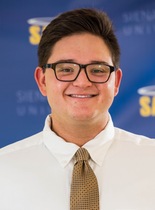 Massimo Menna, the Carleton, Mich., native is a 2020 Airport High School graduate.
When Menna played at Airport his freshman year, he mentioned that "the team was bad when I started as a freshman and then led them to the playoffs my senior year."
When Menna played for Airport, he played left tackle. As a freshman at Airport High School, Menna mentioned how he had to overcome adversity of not being the best player right away. This motivated him to attack the weight room every day and block out the extra outside noise. 
By Menna's senior year of high school, he said the hard work paid off. This resulted in the college offers coming in. Menna mentioned that he chose Siena Heights because Menna felt that Siena Heights was the best place for him to further his football career.
Menna, who no longer is a player on the field due to injuries, is still on the sidelines coaching every Saturday. He said his dad is his biggest influence and was the one who really sparked his interest in football. 
Menna said he decided he wanted to transition into coaching because he decided that it was the best thing for him. Menna's goal is to be a football coach when he is done with Siena Heights.
"It's awesome to be so young with this head start," he said.
From the coach's perspective, Menna said there are some big-time differences. But as a player and a coach, he said hehas learned that football has taught him "to never give up on a physical or mental challenge and grab the bull by the horns." 
Menna said coaching was in his best interest because he loves the game so much.
Outside of football, Menna has a lot of hobbies. He enjoys playing video games, spending time with his family and friends and playing card games.
Leave a Comment