REVIEW: Evans Blue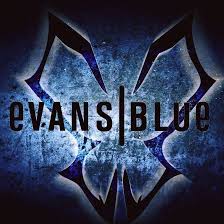 Many bands have suffered the unfortunate fate of losing their vocalist.
For many bands it spells impending doom, as the vocalist often is the band. While this isn't true for every musical group out there, it is the reality for most. Even if the band manages to replace their vocalist and keep themselves afloat, the transition is often rough, for diehard and casual fans alike.
This brings me to "Evans Blue" — the 2009 self-titled third album in their discography — and the first album to feature new (at the time) vocalist Dan Chandler.
Just two years after the firing of vocalist Kevin Matisyn, the boys of Evans Blue found themselves a voice in Chandler, who brings his baritone vocals and brooding lyrics to the table, which complement well the drop-tuned guitars of bandmates Parker Lauzon and Vlad Tanaskovic.
While every band's "first" album always involves a little experimentation in an attempt to find their sound, Chandler took the metaphorical bull by the horns and establishes the new Evans Blue sound as early as the second track, "Sick of It." In this track, Chandler gives in to his frustrations with someone he was once close to, ending the relationship in an effort to save his own sanity, a recurring topic in Evans Blue's discography.
In most of their work, Evans Blue is known for riffing it up and throwing subtlety out the window when it comes to instrumentation. They definitely don't disappoint here.
While future work shows off a little more variety and experience, maturity, if you will, the rhythm and lead guitars work well with Joe Pitter's bass fills and Howard Davis' drums to give many of the songs a head-bobbing or foot-tapping crunch. Examples are the album opener "Buried Alive," middle track "Say It," and the aforementioned "Sick of It."
They also show willingness to experiment in "A Step Back," being opened with cellos as opposed to drums or guitars, though they are quickly brought back to the forefront. The instruments do well to amplify Chandler's angsty, tough guy sound, which, while similar to other mainstream contemporaries, is unique enough to give Evans Blue a foot to stand on in comparison to other artists of the genre.
But that's not to say that there aren't certain criticisms I had with the album.
During the numerous times I listened to the album to write this review, I found that the second half tends to drag on a little too long, even on repeated listens. This is because the album pumps the brakes and showcases its softer side with "Who We Are" (a song I felt had rather clichéd lyrics, with the floaty instrumentation acting as a saving grace), right after the thumping and in-your-face "Say It."
This slowing down is a mistake, as the album never really returns to the pace that the first half set, and in anything musical, it's important to maintain that "flow."
The album certainly tries to get itself back on track, and the songs that make up the second half aren't bad. It's just that by the time I made it to track 10, I was wondering to myself, "How many more songs are there?"
That is until the final track, which, in my opinion, is the highlight of the entire album.
"Erase My Scars" is the angst-ridden album closer, and boy does it send the album out with a bang. Chandler's delivery of the lyrics pushes the song into near nu-metal territory, with an ascending guitar melody in the verses, until the chorus explodes with harsh… well, everything.
The guitars display their edge with simple, yet well composed chords that practically act as harmonies to Chandler's alternating clean and dirty vocals. All of this is raised up by Davis' drums, which sound as if they're being hit so hard that I wouldn't be surprised if Davis accidentally slammed a drumstick right through one of them.
After the song fades out, the album cycles back to track one, although I found myself returning to "Erase My Scars" too many times to count.
Before this becomes too long and tiresome to read, I'll wrap this up and say that Evans Blue put their best foot forward and delivered an album that is worthy of, at best, being a part of any alternative rocker's album collection. And at worst, an engaged listen.
To simplify it all, on a scale of A to E, I'd give it a solid B. In spite of the few flaws and minor nitpicks that keep it from becoming an A, it's still a solid album with plenty of standout tracks.
Leave a Comment