Winn A "Win" for SHU Women's Lacrosse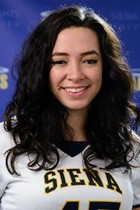 (Note: This feature was completed before the cancellation of the 2020 spring sports season due to the coronavirus outbreak).
Reilly Winn is a junior from Hartland, Mich., and on the Siena Heights women's lacrosse team. She is also currently majoring in business administration with a minor in marketing.
Winn has been a contributor since she stepped on campus, starting all 18 games as a freshman and was named to the WHAC All-Conference second team. She started 11 games as a sophomore and she says that junior year will be her best year yet.
When Winn was asked what made her choose lacrosse as a sport and she had this to say, "My first love was basketball, but I quit my sophomore year and tried out for the lacrosse team just for fun, and ended up being really good and made the team and started every game as a goalie."
Winn stated that lacrosse is more than just a sport to her; it is a part of who she is now and she just would feel right if she wasn't playing it.
She was also asked what she would be doing if she wasn't playing a sport, and she said, "Honestly, I have no idea. Sports has always been a big part of my life for so long now that I don't think I would have the motivation to do anything else."
How does playing a sport helps her in the future with life or in the workforce?
"Playing a sport teaches you so many things such as the meaning of grinding to achieve a goal," she said.When I finally graduate and start my career, I will be the hardest working person there, and that's because of sports."
Winn said it has been a long offseason, and she is excited to finally get back out on the field and win a ring.
Leave a Comment