ALBUM REVIEW: Out of the Darkness by torndown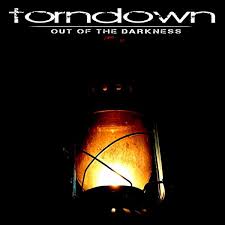 Self-described Hard Rock band "torndown" is a local group based in New England, and what started off as an acoustic duo in 2007 soon became a hard rocking three-piece consisting of Tim Irish (Guitars/Vocals), Eric Armstrong (Bass/Vocals) and Dan Kuchta (Drums/Percussion).
Their discography consists of several EPs dating as far back as 2008, as it wasn't until 2017 that they started picking up traction with their Live Again EP, with a couple tracks garnering radio-play.
Two years later, on Sept. 27, 2019, torndown saw the release of their first, full-length album: Out of the Darkness.
And as far as first albums go, torndown delivered.
Despite being one of the shorter albums I've listened to (clocking in at only 37 minutes with 10 songs), Out of the Darkness is an album that I have come to be absolutely enamored with. I've listened to it only a couple times prior to now, but it's only this time that I've come to fully appreciate it.
Starting with the presentation, the cover is simple, but it's fitting, both thematically and aesthetically.
The cover is simply a lit lantern surrounded by shadow. I'm not a big fan of "warm" colors like orange or yellow, but it's contrasted well with the pitch darkness surrounding it.
Now that that's out of the way, the album opens with a short intro leading into the first actual song "Going Under," and once it grabbed onto me, it really didn't let me go, it kept me captivated the entire time.
One might think that having only three members would be rather restrictive in regards to creativity, but you would be wrong – torndown's offering to the music world is nothing short of a breath of fresh air.
It's full of atmosphere, riffs and chords and lyrics both dark and light.
The instrumentation on each song is gritty, piercing, and the sound is so thick and beefy, it's wonderful.
And torndown does a lot to keep the songs interesting.
The songs are chock full of dark and low riffs while the softer parts are often filled with atmosphere. In those parts, the riffs become single melodic notes and the vocals soften up from bellows to almost-whispers.
It's nice to have that contrast, not only between different songs on the album, but within the songs themselves.
In short, it's an album that doesn't waste a single second of the time it's been given.
Now, I've said a lot about the heaviness of the album, making it seem like it's 37 minutes of riffs, but that's not the case as torndown snuck in a couple of lighter songs on this debut, and while they may be lighter both instrumentally and lyrically, they don't rock, or fit into the album as a whole any less than their counterparts.
The album really makes me want to get up and move or sing along with it. It makes me feel something, which is what music arguably should do.
Honestly, if you were to strip away the vocals from all of the songs and leave them as instrumentals, the album would still be just as great because there's so much emotion behind the instruments that they either reflect the tone and emotion of the lyrics perfectly, or they tell their own stories outright.
This applies to every song, but it applies most to "Oxygen" which, in my opinion, is one of the best songs on the album as it perfectly encapsulates everything I've described.
After a few listens, I feel that this album also makes a good case for why the order of songs and how well they flow in and out of each other is one of the most important (and underappreciated) aspects of an album.
Similar to when I listened to Breaking Benjamin's Dear Agony, this album took me on a journey.
It starts off with "Going Under," a song about succumbing to the pressures of whatever dismays you and wondering if you'll make it back out, and ends with "Home," a softer and lighter track, in both tone and instrumentation, about waiting to return to a familiar and safe place: home.
I don't believe that this album was intended to be a concept album, but that's why I say that the order and flow is important: because even without it being a concept album, it still becomes a story to tell, a journey about facing feelings of regret, temptation and failure, but ultimately attaining redemption and forgiveness.
And that's much better than just simply being a collection of songs slapped together on one CD with the only thing they have in common being that they're all on the same album.
It allows what could have been a simple album to become so much more — it's like when you read a really good book or watch a really good movie and it gives you a deeper appreciation of those respective mediums.
Final Rating: A
Support your local bands, kids, and not just because it's a nice thing to do. There's something about the music that local bands produce that's so fresh.
Local bands aren't afraid to push their limits, take risks and try new things, they still have to prove themselves to the world so they're not going to be resting on their laurels, content that they can release aural garbage and their fans and critics will eat it up regardless.
Anyway, I would highly recommend giving Out of the Darkness a listen. Your mileage may vary, as always, but if worst comes to worst, at least it's only 37 minutes.