TRIBUTE: Dr. Mike "Doc" Dawson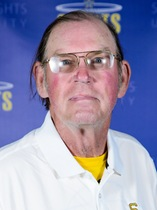 (EDITOR'S NOTE: Tristen Kendrick is a member of the SHU football team.)
If anyone ever wondered who Siena Heights football field was named after, then you are about to find out. The field was donated by former football All-American and orthopedic surgeon Dr. Mike Dawson and his wife, Lynne, in 2011.
Dr. Dawson was quite the athlete in high school, as he excelled in multiple sports, including football, baseball, track and wrestling back in 1963 at Prospect High School in Illinois.
Dr. Dawson recruited by Tennessee, Dartmouth, Cornell, Pittsburgh, Michigan, Wisconsin, Illinois, Iowa, Washington, and Vanderbilt. However, he chose to attend Vanderbilt University where he had a full-ride scholarship for football. At Vanderbilt, "Doc" was a two-way starter, where he played fullback on offense and linebacker on defense.
He was an excellent student in the classroom, receiving nothing but As. After he graduated from Vanderbilt University, he decided to go to medical school at the University of Michigan where he got a medical degree.
Dr. Dawson also joined the military, and he was a major in the U.S. Army, which is a field-grade military rank.
Once he was done with the military, he moved to Adrian and started Southeast Orthopedics, which was very successful.
Dr. Dawson was also the team doctor for the Adrian High School football team for 25 years, so he was very familiar with the Adrian area. He also did work with them on a number of professional athletes such as Bo Jackson, and for a while, worked with the University of Michigan football orthopedics.
Dr. Dawson died on Nov. 16 from natural causes. His wife died 15 or 16 years ago. He was by far one of the strongest men out there, as he lost half of one of his arms in an accident at his farm.
Dr. Dawson was around the Siena Heights football team, where he was given the nickname "Doc." He was typically a kind, calm but quiet man most of the time.
When asked about "Doc," some of them Siena Heights University football players had this to say: "I never really herd doc talk much but he was always around and trying to help our team out and improve things."
"It always seemed like Doc was excited to be around football players and we appreciate everything he did for us."
The year 2020 has been a very crazy year, to say the least, and sadly Doc is no longer with us. However, his legacy at Siena will live on forever.