Bellamy Grinds Out Role for Saints Football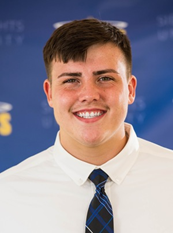 For Siena Heights University to be a Michigan-based school, it seems like there are quite a lot of players who are playmakers for the Saints that are from the Buckeye State.
A lot of the team's starters on both offense and defense are from Ohio, such as Tyler Knecht, who is the starting quarterback, and All-American strong safety Trenton Morrow. It seems that Siena has yet again found a hidden gem in Ohio from Whitmer High School.
Aaron Bellamy is from a suburban area in Toledo, Ohio, and is a freshman this year at Siena. Bellamy had this to say about his hometown: "It's a big city like Cleveland, but honestly, it's really no different from Adrian minus Toledo having a nicer and bigger downtown area."
Bellamy is an H-back at Siena, but in high school, he was strictly a tight end who occasionally lined up in the backfield or in the slot. Bellamy said he had never really heard of an H-back, however, it's similar to a tight end. InSiena's offense, an H-back is a position where one has to block and catch.
It's a complex position which requires good size, and people have to be big enough to be able to block defensive linemen and linebackers, but quick and athletic enough to be able to run routes and catch passes.
Bellamy is a criminal justice major who has plans after graduation of becoming a state police trooper.
"I mean, I would like to become a sheriff one day, but I've always had dreams of working for the FBI," he said.
Bellamy said he had other athletic scholarships, and some that were closer to home. So why Siena?
He said, "I chose Siena because the campus is beautiful and the athletic department seems more focused on education and they try to set you up with a job."
There is a special thing about Bellamy: he's number two on the depth chart and he typically rotates with the starters during the games and practices. In certain packages, he's a starter.
When asked about a time that he faced adversity, he said that in August, before students moved on to campus, his uncle was extremely close to death.
Bellamy states that in order to play football at Siena, you can't take any plays off and you need to have tough skin. When talking about what advice he has for the incoming freshmen next semester, he said, "just make sure that you are mentally strong, because if not, then your mind will cause you to take things that the coaches say personally, and your mental health will deteriorate."
Bellamy said he is extremely happy and excited to see what the future holds, and even though he had other schools offer him more scholarship money than Siena, he knows that he made the right decision in picking Siena Heights. He would highly recommend it.
A fun fact about Bellamy is that he is an absolute "grinder." He is a student-athlete and works part-time three nights a week (Friday, Saturday and Sunday) at Domino's as a driver in Toledo on the weekends.