ALBUM REVIEW: Chilombo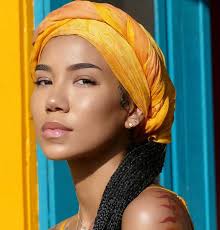 "Chilombo" is Jhene Aiko's approach to healing in a time of sickness
Recently, It seems as if there has been nothing but bad news circulating the globe. There seems to be a sort of shared anxiety regarding current events. However, popular R&B artist Aiko seems to have found the remedy to anxiety within her third studio album.
The name Chilombo, Aiko tells Billboard, is actually her last name. Chilombo is a name that her father coined for himself in his younger years. Originating from African heritage, the word means "monster" or "wild beast."
The artist tells Billboard that "As I come into my womanhood, I feel extra strong…" The album serves as a reminder of the resilience that can be found within oneself during times of adversity and hardship.
Aiko owns the word "Chilombo" in the fierce, yet soothing verbiage laced throughout the tracks of the album. The narrative of the album deals with recovering from heartbreak. Each track is a reflection of her own experiences and also a new step forward in her journey towards self-reliance and inner-peace.
The track "Lotus" provides the listener with a sort of "storybook" introductory into the 20-song album. Aiko's collaborations with artists such as H.E.R, Future, Ab-Soul, Miguel, Ty Dolla $ign proves just how versatile her voice and presence can be. Additionally, timeless guests such as Nas and John Legend work to give the listener a nostalgic feeling.
Aside from the powerful content of her music, the artist states that "the production of the album was done on The Big Island (Hawaii)." Jhene describes Hawaii as a very healing place, and also a place where she has roots.
In terms of the healing qualities of the album itself, Aiko says that "Music is the universal language and its all frequencies, it's all energy, and it's been proven to be healing on the cellular level. I put sound healing in every track, I played sound bowls that are intended to resonate with the different chakras in your body… sound is important, its something that unites us, especially in grief or frustration, or any emotion that we feel like is hard to deal with," according to Billboard.
So, in a time of confusion and panic, Jhene's "Chilombo" works to calm our anxieties, lighten the spirit, and remind us of our strength.
Leave a Comment