Saints Still Prepping for 2020 Season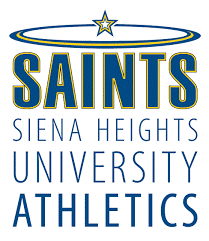 The Siena Heights football team may have canceled their spring game and spring practices, but that's still not going to stop them from having meetings.
On March 31, the Siena Heights offense had their first Zoom meeting with head coach Matt Kohn to discuss a few plays, formations and just to make sure that everyone was doing OK.
Even though Kohn can't have practice, he and the entire Siena Heights football staff are still finding ways to coach and teach his players new plays.
There have been a lot of teams that have been using the Zoom app to have meetings and things like that. There are some teachers who have also been using Zoom to teach their classes.
The reason that a lot of teams are starting to use this app is because of the big pandemic that's going on. A lot of players have a lot of free time and coaches don't want their players falling behind, so with weekly Zoom meetings, players won't be confused when August comes.
Basically, Zoom is a Facetime-like group call where a many people can video chat on either their phones or computer to have a group call at the same time. 
Leave a Comment