SHU Student-Athletes "Zoom-ing" Through Workouts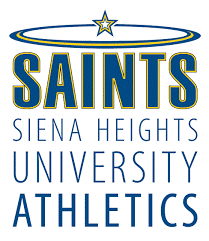 Since the coronavirus still has gyms closed, Siena Heights athletes have found ways to host their own workouts.
Football, basketball, lacrosse and baseball players have then hosting their own private workouts through Zoom. This is a great way for players to still get in a good 50-minute workout. Basically what these athletes are doingis having one host that leads a group of 10 through a workout.
Since there are no weights involved, the workouts normally consist of things such as push-ups, sit-ups, jump squats, crunches and planks.
In order for everyone to workout together, everyone must have the cameras turned on and have the camera at a far enough angle that everyone can see them.
This is also fun for some coaches, as they must be creative now and try to make up new effective workouts for their players and for themselves.
According to these student-athletes, these Zoom workouts are great because students can still practice social distancing while being together.
These workouts started because coaches don't know when their players will be able to go back to gyms, so they want their players to be ready no matter what. So they are continuously finding ways to have their players say in shape.
Coaches have also been using Zoom meetings to watch the film and go over plays from the previous season. Some of the football coaches are making players make videos of them drawing up plays and explaining what they do to them to make sure they everyone knows what they are doing.
The coronavirus has put a lot of teams at a disadvantage, however, the Siena Heights Saints are not letting it slow them down.
Leave a Comment