Caleb Devereaux: Three-Sport Athlete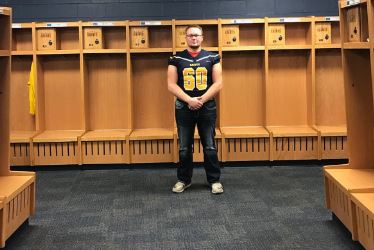 Caleb Devereaux is not your average football player. In fact, he is also on the track and field team and the eSports team, which makes him a three-sport athlete.
Devereaux is currently a junior from Lowell, Mich., and is attending Siena Heights University for Business Administration. He said he hopes to open up his own successful business in the future. One unique thing about him is that he has spent years learning about the stocks and has made over $1,000 through investments.
Devereaux had academic scholarships to go to bigger schools such as Central Michigan and the University of Toledo. However, he turned them down because he wanted to be a student-athlete. If he had decided not to go to Siena, he said he would have been at a bigger school. But he would not have as been happy because he would just have been what he calls a "regular student."
When asked why he decided to come to Siena he said, "I came to Siena Heights because I like the small school vibe where everyone knows everyone."
When it comes to why he wanted to play football, he said, "I like how the coaches care about your academics more than your athletics."
Devereaux also expressed that at the end of the day he said he feels like he made the right decision attending Siena Heights University, and is extremely grateful for the opportunities provided to him to further his education.
Leave a Comment