Rampe Hopes to Pursue Broadcasting Career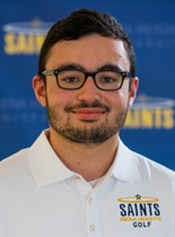 Michael Rampe is a sophomore from East Lansing, Mich., who is a communication major and a member of the men's golf team at Siena Heights University.
Rampe has dreams of one day being able to take his athletic career to the next level to compete with the pros.
He went to Lansing Central Catholic, which is located near East Lansing. The school is a fairly small school, as Rampe graduated with about 45 other students. That number is small compared to schools like Grand Blanc, Cass Tech, and Novi High, with graduating classes between 400-600 students.
With that being said, Rampe said he likes a small class setting, which is part of the reason that he came to Siena Heights. In a big university, like Michigan State, the average class population is about 105 students per class. And with that big of a class, it's easy to get behind and lost as professors do not have time to sit and talk with each individual student.
When asked about how Rampe got involved in sports, he said, "I really feel like it was seeing all my friends playing sports and having fun, which is what made me want to play. Also, my dad used to make me get up early in the morning on the weekends when I was little to take me to the golf range."
After multiple hours and years spent on the golf course, Rampe began to get good and tried out for the high school team and joined as a freshman. He has become quite the golfer as his tournament scoring average is 88.33, and his handicap is an impressive plus 11.
As for his career after graduation, he plans on becoming a potential journalist and working his way up from there. He has dreams and aspirations of becoming a broadcaster or radio announcer for ESPN.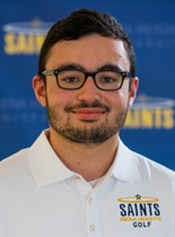 Leave a Comment