REVIEW: 'Dangerous' by Morgan Wallen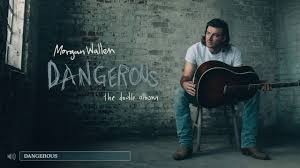 Morgan Wallen released his double album Dangerous on Jan. 8. The album quickly overtook music charts.
According to sources like Rolling Stone, Billboard, Pop Culture, and Page Six, Wallen's album reigned in over 100 million on-demand audio streams in three days. It broke Apple Music's record for the biggest single week for a country album in two days and broke the all-time first-day stream record on Spotify, both of which were previously held by Luke Combs and his What You See Is What You Get.
Not only did Wallen out beat fellow Combs, but Dangerous out beat the first-week streams for Harry Styles' Fine Line and Drake's Care Package.
Despite the hot water that Wallen has gotten himself into with the viral video provided to TMZ of Wallen using a racial slur, his music continues to climb the charts and stay at the top. Many radio stations and streaming services have stopped or removed his music from being played. Yet Wallen's music continues to dominate the iTunes charts.
I personally do not agree with the way Wallen acted in the video given to TMZ, but this review is not about the artist and his actions. It is about the music.
While what he did was wrong and Wallen has since apologized, it may be a while before he is out of hot water. His career may never fully recover, as this is not the first scandal he has been involved with. All scandals and craziness aside, let's get back to the music.
Dangerous: The Double Album has 30 songs and 33 songs on the deluxe version, creating a listening time of one hour and 48 minutes. This is the first album I have seen or heard with the most songs. Since there are so many songs on the album, it can lead to having multiple hit songs. More Than My Hometown, Wasted on You, and 7 Summers seem to be the songs that keep reigning in on the top charts.
Personally, I believe the best songs on the album are Neon Eyes, More Surprised Than Me, and Outlaw (featuring Ben Burgess). I think these couple of songs are underestimated along with a few others. When listening to the whole album, you can hear and feel all the different emotions Wallen went through, or what he wants you to feel when listening to a certain song. These couple of songs are ones I could connect with and feel the music.
I wish it could be as simple to say the whole album is great and that I like everything about it. But I can't even though More Than My Hometown is one of the top charting songs, I don't really care for it. It doesn't grab my attention as much as some of the other songs.
I think Livin' the Dream is a better hit song over More Than My Hometown. Livin' the Dream has better lyrics that are catchier, and the overall rhythm and sound of the song catch my attention and make me want to sing along. It is also I goo example of the different emotions that Wallen goes through in the different songs.
The way I feel about the album and certain songs on the album might be different from yours. But that's the beauty in music: everyone connects with it differently and in his or her own way. I would say if you haven't given the album a listen, you should. Even if you're not a country fan, you should give the album a shot and see if it changes your mind.
Leave a Comment